Severe Regurgitations (Novalac AR Digest)
Spit up? Vomiting? Feeding refusal? Sleep disturbances? Wheezing?
When should reflux/vomiting be considered a warning signal?

Some babies seem to show different alarming symptoms which should be discussed with a health care professional:
Spitting up/vomiting frequently (not only after the feeding)
Crying often/sleep disturbances
Losing weight
Feeding difficulties
Coughing, wheezing etc
These symptoms may be caused by severe regurgitations or allergy to cow milk protein. Your pediatrician might consider a specially designed formula to manage these alarming signs.
Novalac adapted solution
Novalac AR digest is specially designed to manage common symptoms between severe reflux and suspected cow milk protein allergy:
Novalac AR Digest is strongly thickened in order to reduce reflux episodes.
Novalac AR Digest contains small fragments of protein to manage symptoms in case of suspected allergy to cow milk proteins.
Novalac AR digest is nutritionally complete, thus, can replace a regular formula and ensures optimal growth.
Novalac AR digest ensures comfort for both baby and parents.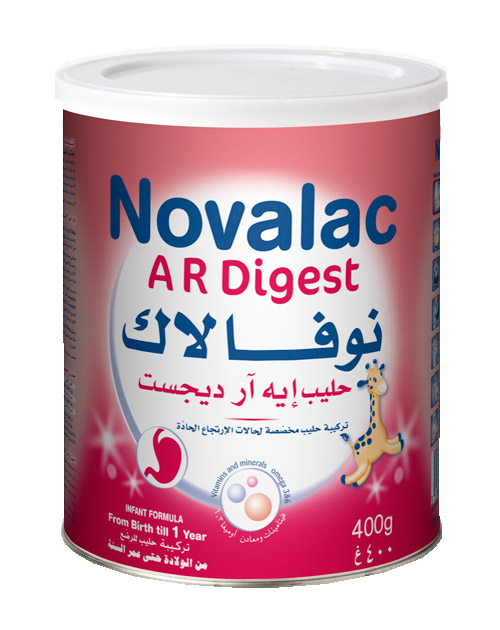 Novalac AR Digest: from birth onwards
Always refer to your health care professional for medical advice.
Register to our Newsletter
Stay up to date with our latest news and events by filling your info in the form.
* Your data is safe, we promise not to spam you.