Diarrhea (Novalac AD)
Are you worried about your baby's loss of energy and appetite during episodes of diarrhea?
In most cases, diarrhea is considered as a temporary problem caused by certain infections, food allergies or side effects to medications.
Although it is a temporary problem, loss of water and valuable electrolytes can be very considerable and your baby can quickly become dehydrated. If not treated promptly, it could also lead to serious problems.
In general, breastfeeding is allowed as often as your baby wants. But, if you are already bottle feeding, ask your doctor about a special formula designed for babies with diarrhea until their conditions improve.
Novalac adapted solution for babies with acute diarrhea
Novalac AD is a specially designed formula to treat diarrhea and protect your baby from dehydration:
Novalac AD compensates the loss of energy as it contains rapidly absorbed sugars.
Novalac AD rehydrates immediately thanks to its high concentration of electrolytes.
Novalac AD stimulates your baby's appetite as it contains banana and apple fruit puree.
Novalac AD is easily digested but designed for short term feeding. When diarrhea improves, your baby can be gradually introduced to another Novalac formula.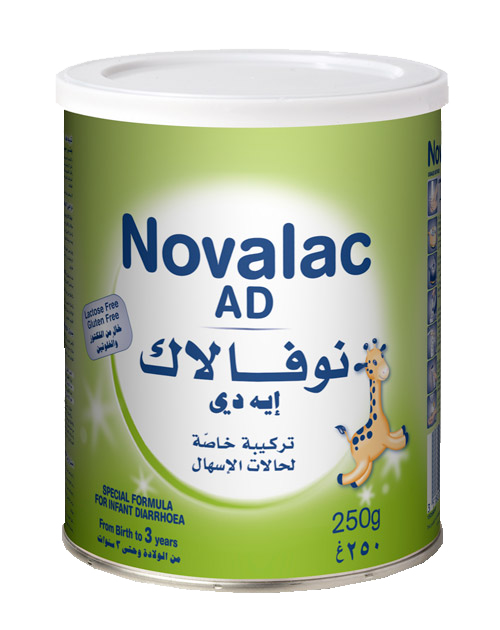 Novalac AD
From birth to 3 years old
Always refer to your health care professional for medical advice.
Register to our Newsletter
Stay up to date with our latest news and events by filling your info in the form.
* Your data is safe, we promise not to spam you.